Dental prophylaxis, otherwise known as a clean and polish, is the most routine dental treatment
performed on pets. It usually takes about 60 minutes and your pet will go home by the end of that day. While all
dental work requires that your pet has general anesthesia, every effort is made to assess, monitor and
provide your pet a pleasant dental experience. We may perform a pre-anesthetic screening test if
warranted due to patients age and/or health. Once your pet is under sedation we will perform an oral
examination before commencing with cleaning and polishing. If any radiographs or extractions are
required we will do them at this time.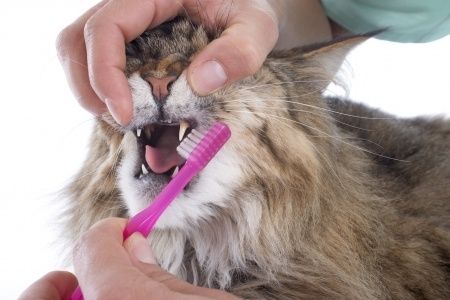 Anesthesia for procedures

We always recommend and utilize the use of anesthesia for all dental procedures. There are always risks when using an anesthetic, however, these risks are outweighed by the fact that this makes all procedures safer for your pet, safer for the vet, and ensures efficacy. Attempting procedures without anesthesia can present other dangers to the animal or vet. Especially when work needs to be done under the gum line, any movement could mean harm to your pet from our dental equipment.

After all, your pet cannot have a reasoned discussion with our staff the way you can with your dentist; procedures are likely to make them afraid, and they will probably try to get away. Animals who are in pain will act defensively and are likely to bite. Even when they're healthy, most animals cannot hold still long enough for procedures like X-rays to be completed correctly. Advances in the latest anesthetics means that for most normal procedures, your pet can go home on the very same day. Your pet may remain groggy, but behavior should return to normal the next day.
Procedures we offer
The procedures we use to treat your pet's mouth are very close to the procedures a dentist uses for you.
An examination is performed before any procedure. Your pet's health is as important to us as it is to
you. That's why we provide a full offering of dental procedures. These include:
Hygiene:
Scaling (removal of plaque and tartar above the gum line)

Polishing

Cleaning plaque and tartar below the gum line

Examining below the gum line for signs of disease (X-ray)
Orthodontics

Periodontal disease treatments

Infection treatment
Fracture repairs

Extraction of teeth or dental pulp

Oral cancer or cysts treatment

Cleft palate treatment

Tooth abscess treatment
It is vitally important for you to carry on your pet's dental care at home. There are a variety of brushing
kits available that usually include a finger brush, small pet toothbrush or alternatively you could use
gauze wrapped around your fingers and special toothpaste. Never use human toothpaste on your pets
teeth as it could make them very sick. Make brushing your pets teeth an integral part of their daily
routine to ensure that you are providing the best preventative care to dental disease possible.
We Happily Serve:
Dogs and Cats